I came to Korea undertaking an International Artist Exchange Residency Programme which was organised by The New Art Exchange, UK and Artspace Boan1942, South Korea. Korea has many rich, diverse culture activities and the people are friendly and open to new ideas. I found South Korea had a lot of stories to write about and incorporate into my work.
Boan Stay = 'Connected'
Boan Stay is closely rooted into the local community, relational authentic and everyday ritual approach, connected to people and places, also linking the past, present and future in the personal level as well as group experience.
I met some really interesting artists and made many new friends while at Boan Stay. Boan Stay seemed very experienced in hosting international artists and people working in all art sectors in their different stages of career, people are interested in Art and happy for a chat! There was always space to think and reflect and exploring the city is just a few steps away. My favorite spot in Boan Stay was a roof terrace where I spent many wonderful times sharing thoughts with with friends whilst enjoying tea and coffee and treats.
I stayed nearly 7 weeks long, Boan Stay is close to the city's National Palace and MMCA, traditional markets. Getting materials was never difficult and it was easy to manage with everyday needs and travel around.
The local public market, Tongin Market was one of my favorite! I really immersed myself with the colours, spices, noise, smell and there were always people there. I like to think that the markets allow you as an outsider to be close to the real heart of the community. you can always find something that suits your lifestyle.  There are many different type of markets, farmer's Markets, Art and crafts market, fresh produce markets, but all were packed with energy and wonderful seasonal things.
It was exciting to see both old and new buildings transformed into a big cultural mix of market place. By the end of the residency, I was quite busy and focused on trading goods with some native Korean rice for my "Rice for Goods" project. The city was full of energy and by that point I had met some of the people who were the stall holders there and made new friends and connections. It was nice to feel a real sense of development in my work and being made to feel part of the community.
---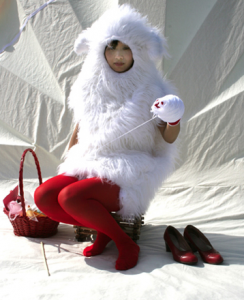 Feng-Ru Lee's practice is rooted in her Far-East Asian Cultural background, her work crosses a range of different media and often-incorporates video, two dimensional works, performance and installation. Toying with ideas of mass production and genetic engineering, Lee's practice is often seen as both a critique and an attempt to understand the seemingly controversial issues involved in the state of the contemporary human condition. Lee explores ideas that centre on the status of the transition/migration between cultures and humanity, whilst also addressing notions of the materialisation of objects and beings. Subjects such as Eastern philosophy and Western science that seem immediately differential hold intrinsically deep and thought provoking issues for both the artist and viewer.
Lee has exhibited throughout the UK, Taiwan and internationally including the USA, Middle East, Japan, and across Europe. She was the winner of the prestigious Taipei Prize in 2000. In 2001 she represented Taipei, Taiwan in an artist residency programme between Taipei and Jerusalem. Lee has also completed residencies in Berlin and recently at the New Art Gallery Walsall. Recent exhibitions have included: Flux Fest at VIVID, Birmingham, Jam: Cultural Congestions in Contemporary Asian Art at South Hills Park, Shift Time – The Festival of Ideas in Sherwsbury and a joint Solo Exhibition at Entrance Gallery in Prague, Czech Republic.
@fengrulee
http://www.fengrulee.co.uk/