I came to Korea on an artist exchange program between New Art Exchange (UK) and Artspace Boan1942. I really enjoyed Seoul. Good coffee and food are in abundance, and the city is very laid back considering how big it is. It felt like the city belonged to everyone, from the cool kids to the senior citizens, which I really appreciated.

I was lucky enough to be working with Boan during my stay, so it was an amazing experience to stay directly above the gallery while preparing for an exhibiton.I would have had a very different experience in a regular hotel, because you become part of an artistic community at Boan.

I stayed for around 50 days. The most conveinient thing about Boan Stay was its central location.  I really enjoyed all of the outdoor exercise area in Seoul, especially the nearby mountian where I could find lots of chin-up bars. As for food, Tongin market is a great place to experience a wide variety of traditonal Korean food, and it's so close to Boan1942.
One of my favourite part of staying at boan, was making friends and sharing meals and spicy chai together in the communal kitchen. Another was becoming involved in Artspace Boan's public programs. Selling tea at the indoor market in Old Boan was especially fun. it gave me the opportunity to meet lots of new people and experiment with new ideas. It even led to meeting Caru, who collaborated with me on a pop-up restautant, as part of 'The Here, There and Everywhere', exhibition. I think Boan really comes alive when there are events where lots of people can participate.
---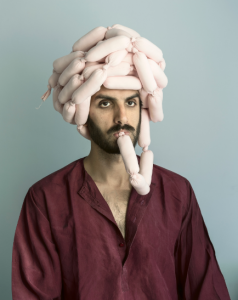 "I am a British-born artist currently living in the East-midlands. My artistic practice is multi-disciplinary, using lens-based media and sculpture to develop visual narratives.
I have an interest in people, places and belief systems, and how such relationships affect identity and belonging. Some of these themes can be found in projects such as 'My Granddad's Car', which explore personal connections to the past  and present through the journey of objects, and 'NORTHAMPTON IS MY FATE', a meditation on where we end up living.
My work has featured in solo shows at Stephen Lawrence Gallery (2017), New Art Exchange (2016) and NN Contemporary (2015). Appeared in international art and photography festivals such as 2nd Changjiang, Video and Photography Biennale (2017), EM Pavilion at the 56th Venice Biennale (2015), Format Festival (2015), LagosPhoto (2013).
I have produced several public installations in spaces, including Southbank Centre (Alchemy 2017) and Heathrow T5 (2012), and was artist in residence at the National College of Art, Lahore, Pakistan (2014)."
@sayedagram
http://www.sayedsattarhasan.com/