"I visited Korea for my exhibtion at the Reference, a new media publishing platform, located within walking distance from Artspace Boan1942.
I had a very packed schedule installing a exhibition and then presenting a workshop, so Artspace Boan1942's central location in Seoul was a very convinient factor for me to work more easily.
Boan Stay is very quite, and the rooms are veyr comfortable.
I also greatly appreicated how clean Seochon area is here, where Boan Stay is located.
There is a very natural mixture of nature and urban in a way that is peaceful.
I had a very good rest during my time here."
–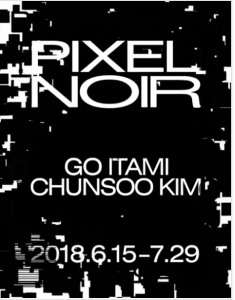 <픽셀느와르 PIXEL NOIR>
Date: 2018.6.15(금) – 7.29(일), 11:00 – 19:00
<픽셀느와르: 포스트디지털 시대 사진의 감각과 조건들>은 '지금 왜 사진인가?'라는 근본적인 질문을 던지는 두 명의 작가 이타미 고Itami Go와 김천수 Chunsoo Kim를 소개한다.
저작권 프리로 다운로드 받은'NASA'의 인공위성 사진과 전통적인 스냅사진을 영상, 조각, 설치물로 확장시키는 이타미 고. 영국의 런던, 록커비, 맨체스터 지역 테러현장을 찍은 디지털 사진의 데이터 코드를 변환시켜 만들어진 이미지 오류와 노이즈 효과를 결과물로 제안하는 김천수의 작품을 통해서 우리는 오늘날 사진이 더이상 소유하는 것이 아니라 참조하는 방식으로서, 작가 고유의 네러티브를 구축하기보다는 구글링과 이미지 코딩 방식으로 '또 다른 사진의 가능성' 을 마주하게 한다. – 사진은 '사진이 아닌 방식에서' 여전히 유효하다.
ㅡ
참여작가/ 이타미 고, 김천수
기획/ 김정은
디자인/ 박지숙
주관/ 더레퍼런스
ㅡ
New Media Publishing Platform
The Reference
Tue-Sun 11:00-19:00
T. 070-4150-3105
–
"I take photographs with the consciousness of belonging to the photographic tradition of Moriyama, Araki and Nakahira, so perhaps this is why you could say that my photographs are Japanese. Anyway, there's no way I could surpass them by simply imitating their work, so there's no point in doing that. I'm looking at photographs by foreign photographers quite a lot, so I think I'm something of a hybrid."
Go Itami
@goitami
https://www.goitami.jp/
https://www.facebook.com/goitami